Captaincy too big an ask for Cummins, says Taylor
Advertisement
Former Test captain Mark Taylor has warned against installing a fast bowler as leader of the Australian team, believing Pat Cummins would face the same multi-tasking issues as Tim Paine if he was handed the job.
Paine's captaincy is under scrutiny in the wake of Australia's 2-1 defeat to India, a second successive series loss at home to the subcontinent powerhouse.
The 36-year-old has declared he is going nowhere, except that is South Africa, where Australia are next due to play a Test series, from early March.
Loading
Replay
Replay video
Taylor, the most successful Australian captain among the four to have led the team in 50 or more Tests, believes Paine can continue on through the Ashes next summer.
Advertisement
With senior decision makers in Australian cricket reluctant to make Steve Smith captain again, the front runner to take over when Paine eventually does depart is Cummins, his deputy.
But former skipper Taylor, a well known supporter of Smith regaining the job when it becomes vacant again, argues that asking the team's best bowler to juggle the captaincy as well may be too much.
"I maintain a batsman is the best person to be a captain," Taylor said on Wednesday. "Pat Cummins will obviously come into the thinking because he's vice-captain, but the worry will be you'll end up with a similar problem the next time Australia are in day five [of a Test match].
"Maybe I'm selling Pat Cummins a bit short, but it's a lot to do to be the No.1 strike bowler or the 'keeper, and be the captain on day five in Sydney and day five at the Gabba.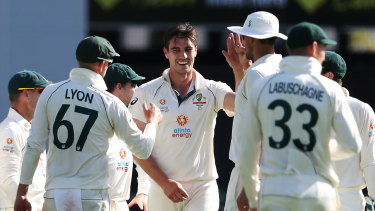 "The off-field stuff, I'm sure Pat Cummins or anyone would be pretty good at that, and you've got [coach Justin] Langer and his support staff to help. But when you're out in the middle that's when you really need to just focus on what you can do to maybe make a difference."
Test wicketkeeping great Adam Gilchrist, who captained Australia to a famous 2-1 series win in India in 2004, questioned on the final day of this summer's series whether Paine's multiple on-field responsibilities were weighing on his performance.
Paine doesn't believe they are but there is no doubt he has a lot on his plate.
"One of the problems that Tim was always going to have [as captain] was being a keeper," Taylor said. "I know my good mate Ian Healy will disagree with me until the cows come home, but it is hard to be a keeper and a captain. The last two Test matches have shown that.
"When it's day five and you're trying to bowl the side out and you're out there for 500 or 600 balls ... as a keeper that takes a lot of focus. It's a lot to do, then to think of the bowling changes, think of the field settings and make sure you catch everything that comes your way.
"I think Tim has done a sterling job, but it's tough, it's really tough."
Taylor said his only knock on Paine's captaincy in Sydney and Brisbane was falling into the trap of trying the "same stuff over and over" with his bowlers.
Loading
"The one criticism I'd have with Tim the last two Tests is there hasn't been enough flair or variety with what he's tried," Taylor said. "I don't think he's set bad fields. I think he's gone through his bowlers very well and managed them very well.
"But I look at Cameron Green [on Tuesday]. He bowled three overs in the day. I just don't there is enough lateral thinking. It's all about, we've got these four good bowlers so, therefore, they'll eventually break through, and they haven't done that the past two Tests."
SaveLog in,
register
or
subscribe
to save articles for later.
License this article
Chris Barrett is Chief Sports Reporter of The Sydney Morning Herald.
Loading