Inauguration Day LIVE updates: Joe Biden, Kamala Harris to officially assume US office at heavily guarded ceremony in Washington
Advertisement
Summary
Donald Trump's presidency will come to an end at noon in Washington DC - 4am AEDT - when Joe Biden is sworn in as the 46th President of the United States.
Kamala Harris will become the first woman, the first black person and the first person of South Asian descent elected to the vice-presidency.
Trump is the first President to skip his successor's swearing-in ceremony in 152 years. He left the White House for Florida early on Inauguration Day.
Moments after Trump flew out of Washington DC, Biden tweeted: "It's a new day in America".
The inauguration unfolds at the Capitol that was battered by an insurrectionist siege just two weeks ago, and which is now encircled by security forces.
Latest posts
President Donald Trump has arrived in Florida after leaving the White House for the final time as President.
Trump's family was on Air Force One with him, and he spent some of the flight meeting with flight staff, who wanted to say goodbye.
Trump has hinted about a comeback despite a legacy of chaos and bitter divisions in the country he led for four years.
Trump spoke to supporters at Joint Base Andrews in Maryland, where he walked across a red carpet and boarded Air Force One. He said: "So just a goodbye. We love you." And the 45th president added: "We will be back in some form."
As Air Force One flew out, Frank Sinatra's My Way played over the loudspeakers.
Trump departs office as the only President ever impeached twice, and with millions more out of work than when he was sworn in and 400,000 dead from the coronavirus.
with AP
More
Australia's Ambassador to the United States, Arthur Sinodinos, is among the small crowd gathered at the Capitol for the inauguration ceremony.
One thing we won't be doing this year is debating the number of attendees at the inauguration ceremony. It has been limited to about 1000 people due to the coronavirus pandemic and the violence at the Capitol two weeks ago.
It was this time four years ago that, in his now infamous debut as White House press secretary, Sean Spicer insisted that Donald Trump had drawn "the largest audience ever to witness an inauguration, period, both in person and around the globe".
Crowd sizes can be difficult to estimate, but images of the National Mall for Trump's inauguration contradicted Spicer's claims – particularly when compared with pictures from Barack Obama's inauguration in 2009.
Later that year, after he had resigned as White House press secretary six months into the job, Spicer said he regretted the claims he made about the crowd size, saying: "Of course I do, absolutely,"
Advertisement
President-elect Joe Biden and Vice-President-elect Kamala Harris have arrived at the Capitol ahead of the inauguration ceremony.
Biden and his wife, Jill, arrived at the complex about 90 minutes before the noon swearing-in ceremony. They were accompanied by Harris and her husband, Doug Emhoff, and were greeted by Senator Amy Klobuchar.
The President-elect's motorcade wound its way through a mostly deserted Washington DC. The city's streets would typically be lined with thousands of inaugural onlookers, but instead were ringed with a massive security presence including military vehicles and armed troops.
About 25,000 National Guard members have been dispatched to Washington following the violent siege at the US Capitol two weeks ago today.
Biden paused to wave from the Capitol steps before entering the building.
Climate activist Greta Thunberg has taken a swipe at Donald Trump as he left the White House for the last time as President, continuing the feud that has been simmering between the pair for more than a year.
"He seems like a very happy old man looking forward to a bright and wonderful future. So nice to see!" Thunberg tweeted, along with a photo of Trump boarding the Marine One helicopter.
Her tweet harked back to when Trump mocked Thunberg with nearly the same words in a 2019 tweet, along with a video of an emotional, then-16-year-old Thunberg blasting world leaders for not doing enough about climate change at a UN summit.
Trump had suggested Thunberg work on anger-management issues and go to a movie with a friend - words Thunberg has clearly not forgotten.
Barack Obama has congratulated his former vice-president on Twitter, just hours before Biden was due to be sworn in.
Obama, who has arrived at the Capitol for the ceremony, tweeted a photo of the two arm-in-arm, taken during Biden's days as vice-president:
All of the former US presidents attending President-elect Joe Biden's inauguration have arrived at the Capitol.
George W Bush and his wife, Laura, were first to arrive at the complex, several hours before Biden's swearing-in ceremony. Barack and Michelle Obama and Bill and Hillary Clinton followed a short time later, each couple arriving in separate motorcades.
The other living former president, 96-year-old Jimmy Carter, previously announced he would not attend Biden's inauguration. Carter and his wife, 93-year-old Rosalynn Carter, have largely spent the coronavirus pandemic at their home in Plains, Georgia.
Trump and first lady Melania Trump departed Washington earlier on Wednesday, skipping the Biden inaugural festivities and heading straight to their home in Florida. Trump is the first president since Andrew Johnson not to attend the inauguration of his successor.
Advertisement
Donald Trump has left a note at the White House for his successor, Joe Biden, following at least one presidential tradition on Inauguration Day.
One of the modern traditions for outgoing presidents is to write their successors a letter offering their best wishes and advice. This is usually left on the Resolute Desk to read when the new president first enters the Oval Office.
It had been unclear whether Trump would abide by this tradition, given he has refused to publicly concede to Biden and did not mention him by name in his farewell addresses.
White House deputy press secretary Judd Deere declined to reveal what Trump wrote to Biden or to characterise the sentiment in the note, citing privacy for communication between presidents.
Moments after Donald Trump flew out of Washington DC on Air Force One, President-elect Joe Biden sent his first tweet of Inauguration Day.
The message was simple:
Biden and the incoming first lady Jill Biden attended a church service at Washington's Cathedral of St Matthew the Apostle early on inauguration morning, along with incoming vice-president Kamala Harris and her husband, Douglas Emhoff.
They were joined by a bipartisan group of members of Congress, including both Senate leaders, Republican Mitch McConnell and Democrat Chuck Schumer, as well as House Speaker Nancy Pelosi and House Republican Leader Kevin McCarthy.
Many presidents have chosen St John's Episcopal Church, sometimes called the Church of the Presidents, for the inaugural day service. Biden will be the second Catholic US president, and St Matthew's is the seat of the Catholic archbishop of Washington.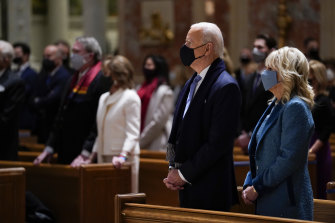 More
Donald Trump has left Washington DC for the final time as President, choosing to head to Florida and skip President-elect Joe Biden's swearing-in ceremony at the Capitol.
"Have a good life, we'll see you soon," Trump said at the end of his speech to supporters at Joint Base Andrews. He then boarded Air Force One and took off as Frank Sinatra's My Way played over the loudspeakers.
Earlier, Trump left the White House on a red carpet, hand in hand with Melania Trump, and boarded the Marine One helicopter for the short flight to Joint Base Andrews in suburban Maryland. He was met with a 21-gun salute shortly after landing.
In his short, unscripted remarks to the crowd, Trump thanked his family and vowed to "always fight".
"You are amazing people. This is a great, great country. It is my greatest honour and privilege to have been your President," Trump said.
He listed what he considered to be the accomplishments of "not a regular administration," including tax cuts, the appointment of three Supreme Court justices and the establishment of a new branch of the military, the Space Force. He also promised that he would be back "in some form".
Trump wished the next administration "great luck," but he did not mention Biden by name.
More
The inaugural address gives a new president a chance to lay out an agenda and vision with the country, and the world, watching.
Some of the best-known remarks from past presidents have been delivered during such an address, including former President John F. Kennedy's famous line: "Ask not what your country can do for you, ask what you can do for your country."
The details of Biden's speech are being kept tightly under wraps, but his inaugural team said the address would lay out his vision to "defeat the pandemic, build back better, and unify and heal the nation."
Below you can watch some of the presidential inaugurations throughout the years:
Loading
Replay
Replay video
Show moreLoading