Coronavirus as it happened: Sydney's northern beaches no longer a COVID-19 hotspot as NSW records just one new local case
AdvertisementWe have made our live blog of the coronavirus pandemic free for all readers. Please consider supporting our journalism with a subscription.
Summary
Latest posts
Thanks for sticking with us – today's blog is now wrapping up.
If you're just tuning in, here's what you missed:
We'll see you again tomorrow.
Sydney's Australia Day festivities will be significantly muted this year, with a number of longstanding January 26 events cancelled and spectators limited amid ongoing COVID restrictions.
At the program's launch at the Sydney Opera House on Wednesday, NSW minister for tourism Stuart Ayres said "Australia Day in 2021 will be a little bit different, [but] that doesn't mean it's less important."
Australia Day Council of NSW chairman Andrew Parker said the "traditional and iconic" Sydney Harbour daytime program - including events such as the Ferrython, the Tug and Yacht Ballet, the Tall Ships Race, and the Harbour Parade - "will not be taking place".
Limited tickets for the remaining events will be released to the general public subject to health advice, however crowds will not be permitted entrance to the harbour foreshore after 5pm unless they have a pre-existing booking at a restaurant at Circular Quay.
Spectators are instead urged to tune into the live broadcast on ABC and iView from their own homes.
NSW Health has urged residents in Sydney's north and north-west to continue getting tested after the state's sewage surveillance program detected fragments of the virus that causes COVID-19 at a sewage treatment plant in West Hornsby.
"This sewage system includes the suburbs of Glenorie, Wahroonga, Thornleigh, Pennant Hills, Cherrybrook, Castle Hill, Galston, Dural, Westleigh, Glenhaven, Waitara, Hornsby, Normanhurst, West Pennant Hills," NSW Health announced on Twitter.
"Everyone in these areas is asked to be alert for symptoms, to get tested immediately if they appear and then isolate until they receive a negative result.
"The presence of SARS-CoV-2 in sewage may reflect the presence of known cases of COVID-19 diagnosed in recent weeks in the areas served by this sewage treatment plant.
"However, NSW Health is concerned there could be other active cases in the local community in people who have not been tested and who might incorrectly assume their symptoms are just a cold."
There are more than 350 COVID-19 testing clinics across NSW.
More
Almost 70,000 COVID-19 tests were administered across Australia in the last 24 hours, with the bulk in NSW, Queensland and Victoria, according to national figures released this evening.
As of midday today, 69,775 tests were conducted in the previous 24 hours, including 20,664 in NSW, 20,615 in Queensland, 17,908 in Victoria, 5,212 in South Australia and 2,813 in Western Australia.
Health authorities have consistently urged residents to get tested even if they have the most minor of symptoms, to allow cases of community transmission to be detected.
About 12.2 million tests have been carried out in Australia since the pandemic began.
In the latest-available international figures, the United Kingdom has carried out 56,003,851 tests in total and the United States has carried out 258,393,113.
The Morrison government is seeking new deals to vaccinate millions of Australians by the middle of this year as it hits back at concerns it is relying too heavily on the AstraZeneca vaccine when other options could be more effective.
The government is in talks with a dozen companies to boost vaccine supply but has been unable to get more doses from Pfizer or any doses from Moderna, another company with a promising candidate to counter COVID-19.
Commonwealth Chief Medical Officer Paul Kelly has rejected calls for a pause in the rollout of the AstraZeneca vaccine after a day of heated scientific debate about interim results that suggested it was not as effective as the alternative from Pfizer and would not generate herd immunity.
The federal government has arranged to buy 10 million doses of the Pfizer vaccine, which is enough for five million people given the requirement for two doses per person, as well as 53.8 million doses of the AstraZeneca vaccine.
Professor Kelly said the government was talking to Pfizer about securing more doses, as the company announced a deal to provide an extra 12 million doses to Malaysia and ramp up production to 2 billion doses this calendar year.
NSW Premier Gladys Berejiklian says returned international travellers with a more infectious strain of COVID-19 could be quarantined in NSW for more than 14 days, as authorities in Queensland grapple with six cases linked to a Brisbane quarantine hotel.
In a interview with A Current Affair on Wednesday evening, Ms Berejiklian said NSW is looking for ways to strengthen its quarantine system as the more infectious strains circulate around the world.
One change introduced by the state means anyone with the new, more contagious strains will stay in quarantine for 14 days once they have an onset of symptoms.
"So we're actually going to be requiring people to potentially stay longer than the 14 days, if we find towards the end of that period they're still too contagious to be allowed in the community," Ms Berejiklian said.
"We took that decision a few days ago, but obviously what's happened in Queensland has exacerbated, has really highlighted why we took that decision."
Ms Berejiklian said Australia is in a good situation compared to the rest of the world but we can't be complacent.
"The situation can change very quickly," she said.
MoreAdvertisement
Temporary morgues have been set up in some areas of Britain, after local hospitals ran out of space for bodies from COVID-19 deaths.
The UK has reported record levels of fatalities and new infections in the last few weeks, fuelled by a new variant of the coronavirus that threatens to overwhelm the healthcare system.
Loading
Replay
Replay video
In the county of Surrey, just south of London, hospital mortuaries have reached their capacity of 600 - leading local authorities to set up a temporary morgue there.
The Victorian government has changed the rules governing people travelling from Queensland in the wake of the outbreak scare at the Grand Chancellor Hotel.
In a statement released this afternoon, the Department of Health and Human Services said anyone in Victoria who completed quarantine at the Grand Chancellor hotel on or after December 30 will need to isolate and contact the coronavirus hotline immediately.
It also states:
"The Local Government Areas (LGAs) of Greater Brisbane, Moreton Bay, Redlands, Logan, Ipswich will continue to remain in the in the red zone and travel to Victoria will not be permitted without an exemption, exception or permitted worker permit.
"Anyone who has arrived into Victoria from 30 December must get tested and quarantine at home until they receive a negative result. They should call the coronavirus hotline on 1800 675 398 immediately.
"Previously we had asked travellers to test if they had been in these Queensland areas on or after 2 January 2021, however this public health advice has changed based on new information from Queensland Health authorities."
NSW Health is urgently tracing residents who stayed at a Brisbane hotel that is being evacuated by the Queensland government after six cases of a highly contagious strain of coronavirus were traced back to the site.
A public health alert has been issued for anyone who has been at the Hotel Grand Chancellor since December 30 with Queensland informing NSW Health that "there were NSW people staying at the hotel who have since returned to NSW".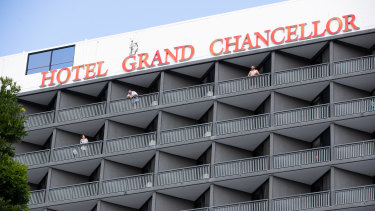 The hotel is believed to have been used for returned overseas travellers only and NSW Health said it was working with its Queensland counterparts to identify anyone from NSW who had been at the Brisbane CBD hotel.
"This variant of the virus is potentially a big problem for Australia and everyone needs to be on high alert," Health Minister Brad Hazzard said. "If you've been in the Brisbane hotel, please help us."
The alert from NSW Health came hours after Queensland ordered more than 200 recently released overseas arrivals back into isolation on Wednesday amid concerns the highly transmissible B117 coronavirus strain was circulating in the hotel in Brisbane's CBD.
There are now four cases who were housed on level six of the Grand Chancellor hotel over the past few weeks: a couple from Britain and a man and his daughter from Lebanon who subsequently tested positive. A cleaner at the hotel and her husband have also tested positive, prompting Brisbane's three-day lockdown last week.
People who worked at or stayed at the hotel before travelling into NSW must immediately get tested and self-isolate for 14 days after they were last at the hotel, regardless of the result.
Read the full story here
More
The operators of Luna Park in Sydney received legal advice that they did not breach COVID-19 regulations when they hosted a large crowd of people for a New Year's Eve event but will pay the $5000 fine handed to them by police, a spokesman for the business said.
Police confirmed the company secretary of the amusement park was issued the fine at about 2pm on Wednesday for not complying with a public health direction.
A spokesman for Luna Park confirmed the amusement park was notified of the fine for social distancing.
"Our legal advice is that Luna Park Sydney did not breach NSW public health orders during the New Year's Eve event," the spokesman said.
"However, we have co-operated fully with police during their inquiries and have decided to pay the fine. The safety of our guests and our staff has always been and will continue to be our number one priority."
Show moreLoading