The UnGrumpy Old Men: Parramatta men find happiness down The Shed
Advertisement
Carpenter, builder, roofer and rock n' roller, Don Cunningham has always played guitar. The louder the better, he says.
He is one of Australia's 100,000 "shedders"- spending three days a week making things, sharing skills and having a chat at the Parramatta District Men's Shed. With a bit of "cut cut, whittle whittle", as Cunningham modestly describes his skills, he made himself a replica of a 1951 Gibson Les Paul classic electric guitar from scratch using the shed's high-tech cutting, metalwork and carpentry equipment.
His "2020" guitar was a "good result in a challenging year".
That could be a metaphor for the entire Australian men's shed organisation of 1157 sheds - about 130 more than McDonald's outlets. It was forced to quickly change tack when COVID affected its core business. That's not only making things, although that's the excuse many men use when they tell home they're popping down the shed.
Advertisement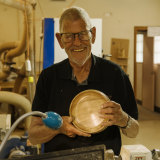 For an organisation dedicated to improving men's wellbeing, and reducing social isolation, COVID was all about social isolation, said David Helmers, Australian Men's Shed Association's executive officer. "It was very contrary to what we do."
To reach members at home, it launched a podcast, The Shed Wireless, which was recently 16th on a list of the 50 most popular podcasts in Australia.
Hosted by Aaron Kearney, the last episode featured boxer Jeff Fenech, and a discussion on how to tell the difference between a crappy day and poor mental health.
Others included interviews with federal health minister Greg Hunt, the governor general, Sir David Hurley, Colin Hay of Men at Work, the original Yellow Wiggle Greg Page talking about his cardiac arrest, Gardening Australia's Costa Georgiadis, and fast bowler Dennis Lillee.
Each episode features sessions on men's health including prostate cancer and erectile dysfunction. There are also chats about Grumpy Old Men, and connecting with fathers with and without hugs and kisses.
Mr Helmers said the onset of COVID also forced the non-profit organisation to think quickly of other ways to keep in touch with members. It launched a website and started calling sheds - each independently run and funded - urging them to check on members.
Parramatta men's shed's executives, including president Ian Robinson, secretary Rob Colless, who featured in an early episode of the podcast, and Mr Cunningham made weekly welfare calls to members and organised an outdoor coffee meeting to catch up at a distance.
The lockdown generated an increase in application from members of the public who had discovered do it yourself. But there is a waiting list. Physical distancing means the shed can't accommodate as many members at the same time, said Mr Colless.
Missing the shed during lockdown surprised members who'd told themselves they were going to help others. "When they are working tools, shoulder to shoulder, they tend to open about things that they wouldn't normally about," said Mr Colless. Recently a man discussed his depression for the first time.
Parramatta's shed's youngest member is 28. The oldest is former fitter and turner and mechanic, Peter Madsen, 87. He turns wooden plates, bowls and pens, sold to raise funds for charity, and says he is happy doing good things for people.
Nearby Robert McKenzie - a former systems analyst - is finishing a street library that was made to order. He's also painstakingly made the jigs (templates required so members can make the same thing to the same standard each time) for a Shed business making wooden prayer boxes known as Butsudans to contain Buddhist scrolls for local families.
Others work in the garden outside, or do some jigsaw puzzles or read a book. There was excitement on Friday because a council representative has asked them to do a metal work project to make bike racks out of old bikes for a local park.
All local sheds are self-funded, and in the 2019-2020 budget the Federal Government introduced a new provision that will make donations to men's and women's sheds - registered as a non profit - tax deductible status.
License this article
Julie Power is a senior reporter at The Sydney Morning Herald.
Loading